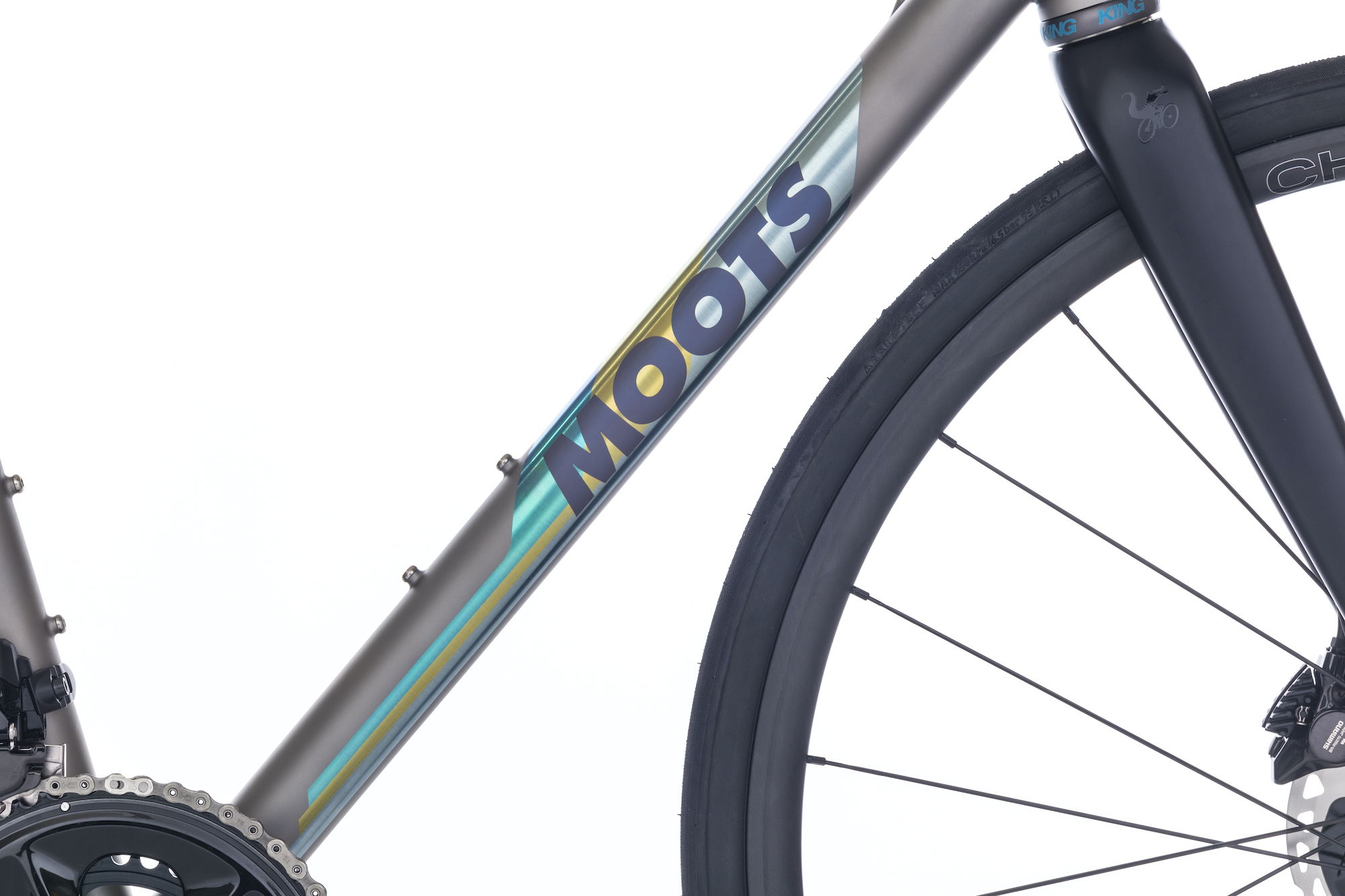 APEX
The APEX is the innermost point of your riding line through the arc of the turn. It's the point that separates your corner entry from corner exit, and it's necessary to hit this mark if you're to ride the fastest line through the corner. When cornering is done correctly, the fastest SPEED ACHIEVED will be realized.
This beautiful bright anodized treatment is carried out in a cool blue hue and gold fade to achieve the look and feel of speed. The seat tube carries the number 81 to denote the year that Moots was founded, and a subtle touch to the chain stay adds to the APEX free speed theory.
Trans Am
"Fast Inspired" by the race car liveries of the 1980's era Trans Am and IMSA race series, Moots' Trans Am finish lets others experience the feeling of speed from observing it, that you know from riding it. With a retro themed color palette anodized onto a gleaming sanded surface to give it a pop, and Moots branding anodized onto bead blasted satin in the interior for a nice contrast, this finish turns heads!
Hunter
Moots drew from the classic M1942 camouflage – AKA "Frog Skin" or "Duck Hunter" – and adapted it to work with their palette and techniques. This pattern is rendered with a sequence of masking and anodizing over a satin bead blast for a well-measured use of camouflage.
Facet
Facet – Inspired by the likes of artists Paul Klee and Bridget Riley – as well as video-game design techniques – this pattern is rendered with bead-blasted anodizing. The colors are easy on the eyes, the branding is tasteful, and this has quickly become a Moots factory favorite.
Etched
This finish uses a process that etches the logos onto the frame where decals would be used. Utilizing multiple in-house bead blast cabinets this allows Moots full control over quality. This finish offers you a subtle way of showing your Moots pride, with an artistic feel that is as durable as it is gorgeous.
Stanley
Inspired by the carpet of the infamous Estes Park Hotel, as seen in an iconic Colorado-set film. The downtube and model name are treated with a vivid gradient and the chainstay is embellished with the iconic pattern. This Moots finish is available on all Moots models as new or can be applied to an older frame at time of refinish.
Anodized
Moots in-house anodized logo finishes. This finish option anodizes standard Moots logos in the same locations as frame decals. Customize the look of your Moots in five different colors. Choose from Matte Blue or new Matte Burgundy, Frost Blue, Rocky Mountain Gold, Rose, and Emerald Mountain Green. This Moots finish is available on all models as new or can be applied to an older frame at time of refinish.
Brushed
Moots downtube, model name and seat tube gator in a subtle brushed texture paired with our satin bead blast finish.
Engraved Headtube
This option is available only on new orders. Moots' skilled CNC team puts their talents to work and engraves the very head tube that will go into your new Moots. ​ Mr. Moots riding through the mountains of Colorado. ​ Clean, iconic, and always leading the way on your rides.